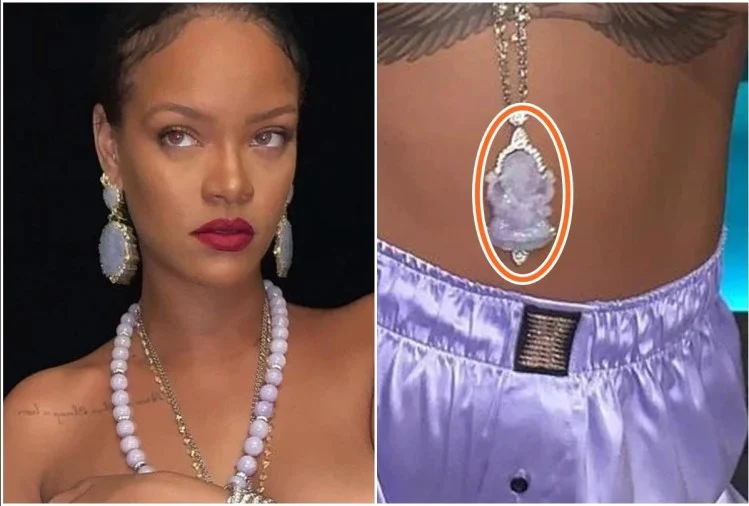 Rihanna : BJP spokesperson Ram Kadam, furious over Rihanna sharing topless photo

Rihanna shared the topless photo, seeing that BJP spokesperson Ram Kadam has flared up.
Recently, American pop singer Rihanna, Who came into the discussion by tweeting in support of the farmer's movement, has once again hit the headlines.
But this time Rihanna is not in the headlines due to her statement but has come into the discussion due to her topless photo.
Actually, pop singer Rihanna has shared a picture from her Twitter handle.
Also Read: Rihanna made excuses in Diljit Dosanjh-Kangana
In which they are topless. Along with this, he is wearing a pendant of Lord Ganesha around his neck.
However, this photoshoot is done by Rihanna for a lounger brand.
But on seeing this photo of RiRi, people were agitated on social media and started telling them the truth.
So right now BJP spokesperson Ram Kadam has also reacted to this.
Retweeting Rihanna's tweet, BJP spokesperson Ram Kadam wrote,
'The way RiRi has made fun of our Hindu deity Lord Ganesha is very lousy.
This proves that RiRi does not know anything about Indian culture and has no respect for it.
Hopefully, at least for now, Rahul Gandhi and other Congress leaders will stop taking help from him.
By giving this photo of Rihanna, social media users are also trolling them fiercely. A user has written – this is incorrect.
The religious feelings of millions of people are linked to this.
People celebrate the Ganesh Chaturthi festival every year.
Sorry RiRi, you didn't do well. One wrote – Dude, I am a Muslim, yet I think this kind of thing is not right.
Let me tell you that Rihanna gave her reaction to the ongoing peasant movement in India.
Rihanna gave her support to the protesting farmers in the outskirts of Delhi and also condemned the internet shutdown to stop the agitation.
He shared a report related to the farmer movement on his Twitter handle.
In which there was mention of internet service being stopped due to farmers' confrontation with police.
With this report, he wrote, 'Why are we not talking about this?' She has been in the news since Rihanna's tweet.