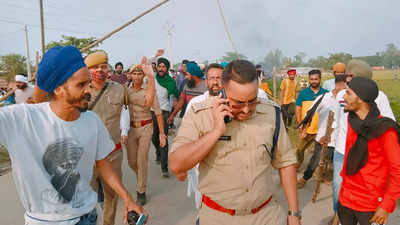 Lakhimpur Kheri Farmers Death: Violence during farmers' protest in Lakhimpur Kheri, 8 killed
8, including 4 farmers, were involved in violence that broke out in Lakhimpur Kheri district. It turned into a day for fortress after during a farmers' protest on 3 October.
As per the reports, farmers torched two SUVs, a statement made by Minister of state Ajay Mishra Teni. UP DGP Mukul Goel said total 8 persons died in the incident. "Out of the eight, four were farmers and the remaining four were others who were in the vehicles.
Farmers have alleged that Teni's son Ashish Mishra was driving the vehicle which ran over the farmers. Teni, reacting to allegations, said his son was not even present at the spot when the incident took place. He added the entire incident is called as a "conspiracy".
Yogi Adityanath expressed his sadness at the events, calling them "unfortunate." He further remarked, "The administration will ensure that the matter is thoroughly examined and that any involvement of anti-social groups is revealed."
The Internet services in Lakimpur are shut down and also the borders around Lucknow are sealed on all the roads leading to Lakhimpur.
Also Read: WB Election Result, Farmers celebrated TMC victory on Tikari border, said – this is our victory