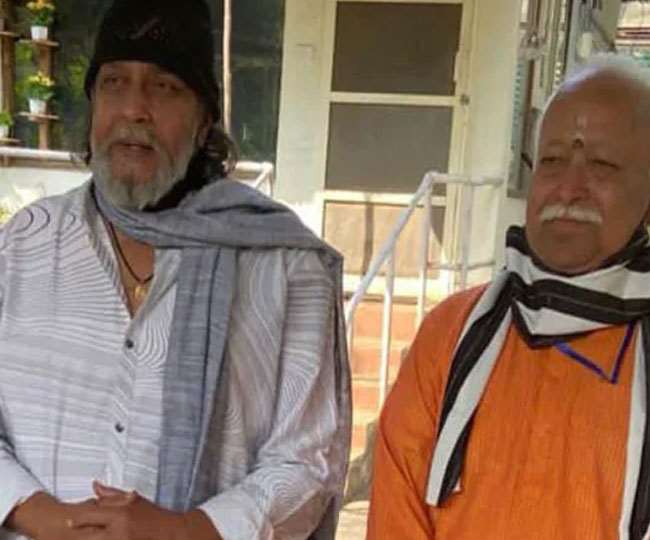 Mithun Chakraborty : Bengal assembly elections: speculation market heated up by meeting Mohan Bhagwat

Mithun Chakraborty relationship with Bhagwat was more spiritual and social
Rashtriya Swayamsevak Sangh's Sarsanghchalak Mohan Bhagwat visited senior cine actor Mithun Chakraborty at his home on Tuesday.
He stayed with them for about two hours.
Though Mithun Chakraborty has denied any kind of political ambition in the wake of the Bengal assembly elections,
the market of speculation has been heated by this meeting.
Sangh chief reached actor's house in Mumbai, stayed with him for two hours
Also, Read SRK Birthday: Suspense of Shah Rukh Khan's next film may end tomorrow, can be announced
Bhagwat came to Mumbai only on Monday.
On Tuesday morning, he met Mithun Chakraborty at his Mud Island residence.
There he had breakfast with everyone and also invited the whole family to come to Nagpur.
Mithun later said in response to questions from journalists that the meeting should not make any political sense.
It was just a family meeting.
On the question of his association with the BJP due to the Bengal elections,
Mithun said that he has no political ambitions, nor has he been approached by any of them till now.
According to him, his relationship with Mohan Bhagwat has been more spiritual and social.
The social work being done by the Sangh in various fields has also wooed Mithun Da.
Bhagwat and Mithun have met many times
This was not the first meeting of Mohan Bhagwat and Mithun Chakraborty.
Earlier on October 3, 2019, he went to Nagpur and met the RSS chief at the Rashtriya Swayamsevak Sangh headquarters.
There he had also paid homage to the Hedgewar memorial.
At the same time, he invited Mohan Bhagwat to come to his house when he came to Mumbai.
Mithun says that he returned from Lucknow shooting two days ago.
Meanwhile, Bhagwat also planned to come to Mumbai.
Then Mohan Bhagwat made a plan to come to his house.
Political meanings of this meeting started to be sought in connection with Bengal assembly elections
Given the political history of Mithun Chakraborty and the assembly elections going to be held in Bengal,
the political meaning of this meeting has started to be explored.
Let me tell you that Mithun has also been associated with Bengal politics in the past.
During his studies, he remained associated with the student wing of the Congress and after completing his studies,
he turned towards leftist politics. He not only became active in the CPI-M, but also joined the Naxalite factions, but after the death of his brother,
he was disillusioned with Naxalism and had to move to Mumbai to escape the Naxalites. In Mumbai, he got a chance to establish himself in the acting world.
Mithun Chakraborty did not like politics for a long time
Seeing her popularity in Bengal, Mamta Banerjee tried to activate her in the Trinamool Congress by making her a member of the Rajya Sabha in 2014,
but politics did not appeal to her for long. Two years later, he resigned from the Rajya Sabha membership citing poor health.