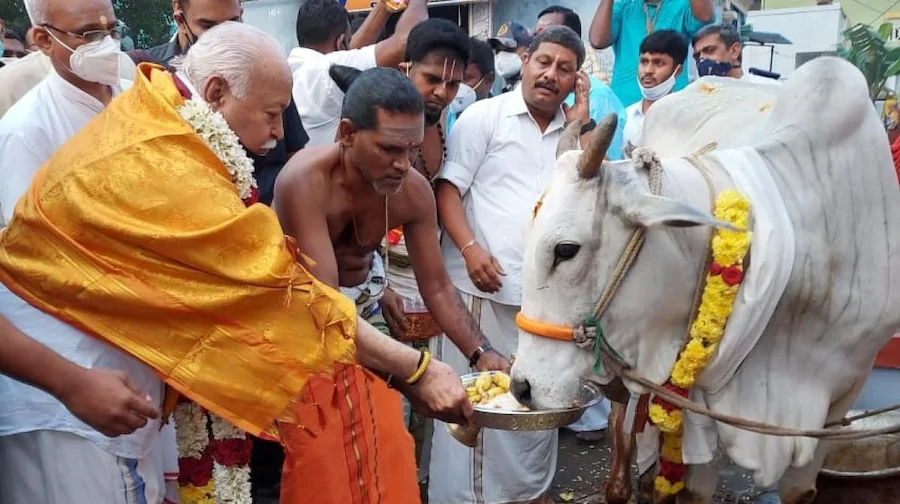 Pongal festival : PM Modi congratulates the people on Makar Sankranti, Bhagwat worshiped in Chennai temple

Today is a day of Pongal festival in North to South India.
Many festivals including Makar Sankranti, Pongal festival are being celebrated, so in the midst of all this, there is also a program of Jallikattu.
Many political events are also to take place in the shadow of these festivals, which will show the glimpse of future elections.
Rahul Gandhi in Tamil Nadu for Pongal festival
Assembly elections are due in Tamil Nadu this year, before that there has been a stir among political parties.
In such a situation, there is a gathering of political parties on the occasion of Pongal, the biggest festival of the state.
Rahul Gandhi, who returned from a foreign trip, will stay in Madurai, Tamil Nadu on Thursday. Rahul Jallikattu will see the game here.
It is organized by the farmers, so Rahul is trying to give a political message too.
On Thursday morning, Rahul Gandhi congratulated everyone for these festivals, as well as supported the ongoing movement of farmers and laborers.
Pongal festival : JP Nadda will join in the evening
BJP president JP Nadda will also be in Chennai on the occasion of Pongal festival on Thursday. Here he will also be involved in some other programs.
There is currently AIADMK government in Tamil Nadu, many gifts are being given to the people on the occasion of Pongal festival by the state government.
2500, sugarcane, shirt, sari and other gifts are being given to the people.
Mohan Bhagwat arrives in Chennai
Today in Tamil Nadu, Sangh chief Mohan Bhagwat is also there. Here he has arrived to participate in the celebration of Pongal.
Mohan Bhagwat worshiped at the Sri Kadumbadi temple in Chennai here and attended the celebrations of Pongal.
Jallikattu begins in Tamil Nadu, Rahul will also reach
Jallikattu has started on the occasion of Pongal in Tamil Nadu. It is being organized in Madurai this time under the shadow of Corona Guidelines.
It has been instructed by the state government that the number of players should not exceed 150, everyone should have a Corona Negative Certificate.
Also, the number of viewers should also be up to 50 percent.
Also Read : Weather Today