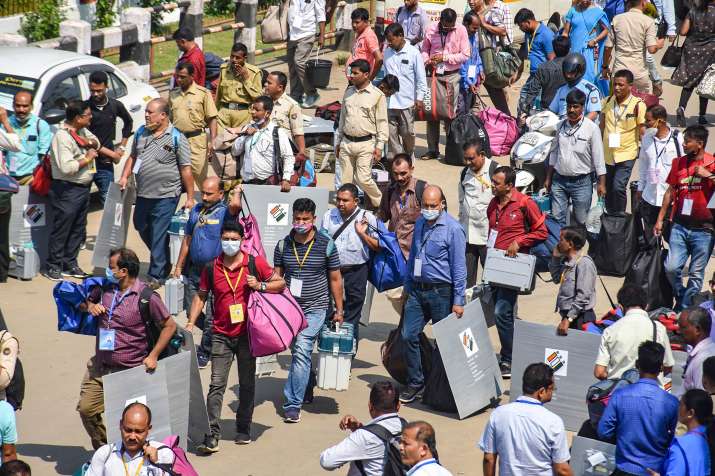 Tamil Nadu election:Election managers are the shortcut way for leaders to succeed rallies have become road shows

There is an electoral atmosphere in Tamil Nadu,
In such a situation Tamil Nadu election rallies and roadshows are being organized there. These have been a special part of the Indian electoral tradition.
It is a different matter that when such roadshows take place in the election of US President, then 'Netaji' has to communicate with the public.
When there is a small public meeting, the public also asks questions and the candidate answers them.
Celebrity dominates in the Tamil Nadu election roadshow
Dr. Anand Kumar, former JNU professor, and knowledgeable political and social affairs say that in India, roadshows and rallies were once part of the 'political program'.
Talks were held on the basis of principles, and future leaders would formulate a larger perspective there.
In today's era, roadshows and rallies are no longer the platforms for political programs. They have become a means of spectacle and entertainment.
Also Read Maharashtra: Uddhav Thackeray ultimatum – Do not be negligent or lockdown is the only way
In the roadshow, along with the leaders, the actors of the cinema, cricketer or any other celebrity is seen.
Have the principles become so weak that Netaji is forced to find his success in the roadshow.
Party organizations and elections, when both of them separated, the business of people like Prashant Kishor started.
Attempts to impress voters with rally-road-show
Dr. Anand Kumar has detailed talks with Amar Ujala.com on the subject of 'Roadshow and Rallies'.
They say, earlier these roadshows and rallies were a means of political and public education.
There was a simple and attractive method of publicity. 'Netaji' used to communicate with the people.
Now that is not all. Every leader wants that there should be something in his rally that he should become famous not only in the country but also in the world.
People of other parties also came to know their modalities.
Leaders think that they all have an impact on the voters. Anyway, elections in our country are not less than a celebration.
There is a fair-like atmosphere.
If the American President is elected, then the presidential candidates travel by train and reach among the people.
Small talks take place on the way.
When they arrive among the people there is dialogue. People ask questions and the leader has to answer.
The dialogue process in India is now completely over. Here, at the rally and roadshow, Netaji folds his hands or greets the public, after which his power display starts on the streets.
Earlier, there used to trust in faces Pro. Anand Kumar, keeping in mind the past, says, in the first election the face used to be big.
People knew that the person coming in their midst had passed in 'Karani and Kathani'.
There were many leaders like Nehru, Patel, Namboodiripad, and Vajpayee, whose face and the name were taken with confidence.
They kept in touch with people. People used to reach their rallies by spending their money.
Today, the condition is that people take a car from home for a rally or roadshow and when returning, a note of 500 rupees is put in the pocket.
The period also came when leaders started taking actors along.
That is, his own image was getting tarnished somewhere.
When Mulayam Singh pushed forward Jaya Bachchan, Rajiv Gandhi tried to give a political platform to Amitabh Bachchan.
Many cine and cricket stars like Vinod Khanna, Jayaprada, Chetan Chauhan Hemamalini, and Gautam Gambhir kept coming on the political stage.
Today on the platform of PM Modi, Mithun Chakraborty calls himself a 'Cobra'.
This has become a rally or roadshow entertainment, ending serious campaigning.
The pan of theory is becoming weaker now. Most leaders are looking for success through other means.
How many people are there in roadshows and rallies who arrive at their own free will Anti-social elements get a chance in the crowd at both places?
Outsiders get into election campaigning.
This is an example in the Bengal elections.
The domineering and feudalistic outlook is dominated.
History is witness that when power is found due to lack of proper means,
it has to be answered by the generations.