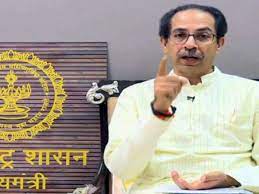 Maharashtra: Uddhav Thackeray ultimatum – Do not be negligent or lockdown is the only way

Maharashtra: Uddhav Thackeray ultimatum – Do not be negligent or lockdown is the only way
The corona infection in Maharashtra is once again increasing at a rapid pace. In view of Corona's uncontrollable situation, the state government has also increased its strictness. At the same time, Chief Minister Uddhav Thackeray addressed the people of the state on Friday evening regarding the state of infection in the state.
During this time, he gave an ultimatum directly to the public that if negligence continues in this way, there will be no way other than lockdown.
Chief Minister Thackeray said that there is a lot of crowd in weddings in the state and people are not following the rules.
He said that there are two lakh 20 thousand isolation beds in the state. Philbal 48 percent ICU beds and 62 percent isolation wards are full.
Also Read: Mumbai lockdown: Mumbai and Pune, now the speed of corona in Vidarbha is uncontrolled, Uddhav government's increased tension
If this situation happens, then in 15 days, the beds will start falling. Thackeray further said that if such a situation persists, we cannot refuse to impose lockdown.
Uddhav Thackeray said that if someone calls me bad then I have no problem with it. The epidemic is taking our test.
We are giving three lakh vaccines daily and our effort is to take this figure up to five lakhs daily.
He said that Maharashtra is at the top in the country in terms of vaccination against corona infection.
So far 65 lakh people have been given Coronavirus vaccine supplements in the state. Lockdown conflict
Meanwhile, the protest against the lockdown has started at different places across Maharashtra after the Maharashtra government has prepared a roadmap for the lockdown.
After Aurangabad, people in Mumbai also took to the streets against the lockdown and they lodged a strong protest against the strict rules of Corona being brought by the government and the discussion about the lockdown.