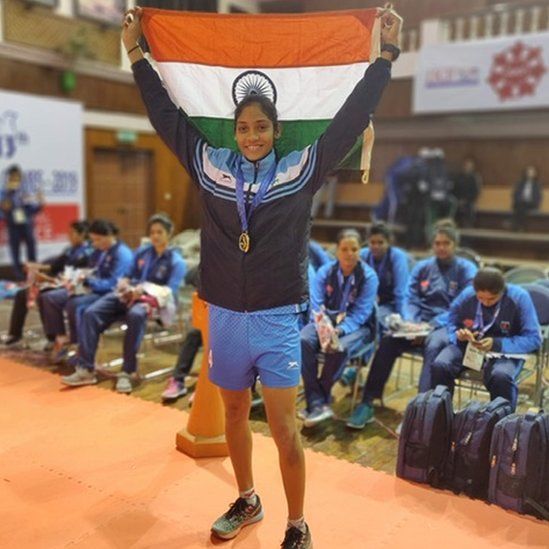 Sonali Vishnu Shinget: When I started playing kabaddi, there was no money to buy shoes.

Indian kabaddi player Sonali Vishnu Shinget did not even have shoes
When Sonali Vishnu Shinget started his training. Her family did not even have enough money to buy shoes for her.
This was not the only challenge he faced. She had to struggle a lot to run only for 100 meters. She needed to strengthen his legs and stomach muscles for this. For this she used to run and exercise by tying the weight in her legs.
After hard work in the morning and playing matches in the evening, they had to get up late to study. The next morning she had to go to take the exam.
Her family had clearly told him that sports is not acceptable at the cost of studies.
But despite his emphasis on studies, his family stood by him with limited resources.
Sonali's father worked as a security guard and his physically disabled mother ran a small food and beverage shop.
Finally, overcoming all obstacles, he represented India in international competitions and also won many competitions.
The road was not easy
Sonali Vishnu Shingate was born on 27 May 1995 in Lower Parel, Mumbai. He studied at Maharishi Dayanand College.
She loved playing cricket since childhood, but her family could not fulfill her hobby due to financial constraints.
Later in college, he started taking interest in kabaddi. At that time, he had not made any serious plans about it.
During college days, she started training with Rajesh Padave. Rajesh is the coach of the local Shiv Shakti Mahila Sangha Club.
He gave Sonali his shoe and kit. Sonali sweats heavily in training and never takes any offense.
Sonami, along with her family, does not forget to count the role of her coaches and senior players like Gauri Wadekar and Suvarna Bartek, behind her success.
The Indian team that won the silver medal in Jakarta was part of that team. Apart from this, she was also a member of the Indian team that won the gold medal in the South Asian Games held in Kathmandu in 2019. This gave a new identity to Sonali's achievements.
Read More : Saina Nehwal