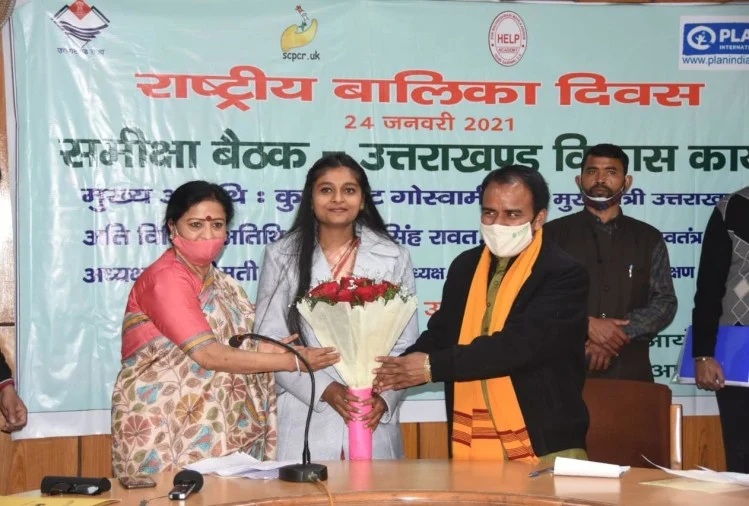 National Girl Child Day: Srishti Goswami becomes one day Chief Minister of Uttarakhand!

Srishti Goswami has become the Chief Minister of Uttarakhand on the occasion of National Girl Child Day.
She says that women should get a safe environment in the state and child crimes should be banned. In the review meeting of various departments in the assembly, he gave instructions to the officers.
Srishti Goswami said that girls have to face many difficulties in coming to school. Girls feel insecure.
Domestic violence cases are increasing, effective arrangements should be made to curb them.
Apart from this, work should also be done to stop migration by providing self-employment opportunities.
At the meeting, DIG Nilesh Andan Bharan from the Police Department said that there has been some increase in female crime in the state.
One reason for this is that 100 percent of complaints of women coming to the police station are filed.
She said that if a woman comes to the police station, then no complaint should be received of any woman.
In the meeting, the Public Works Department gave information about Dobra Chanti Bridge.
Due to its formation, the distance from district headquarters to Pratapnagar has reduced from one hundred and fifty kilometers to 68 kilometers.
The tourism department was told that a homestay scheme was brought by the government.
Information from the irrigation department about the construction of Suryadhar lake and its benefits.
It was informed by UREDA that the work being done in the field of solar energy in the state will give self-employment to the local people.
Usha Negi, Chairperson of Children's Commission, Additional Secretary Jharana Kamathan, etc. were present in the meeting.
The action of Bal Sadan Honors Girls: Chief
Minister Trivendra Singh Rawat has nominated Srishti Goswami for one day as Chief Minister on National Girl Child Day and said that the proceedings of Bal Sadan are respected by girls.
The Chief Minister said that such events help girls to establish their identity in society.
He said that for the future masters to take the country in a better direction,
it is necessary that they should be aware of the current affairs as well as the work being done at the legislature level.
The Chief Minister said that today our daughters are moving forward and demonstrating their success in different fields.
He said that he wished for a bright future for one day nominated CM Srishti Goswami on behalf of Bal Sadan.
Also Read: 22-year-old poem by Amanda Gorman