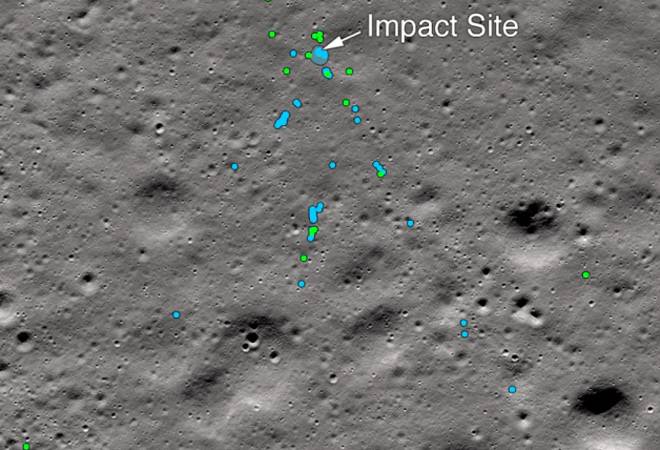 NASA discovers Chandrayaan-2 lander Vikram, released photo on the lunar surface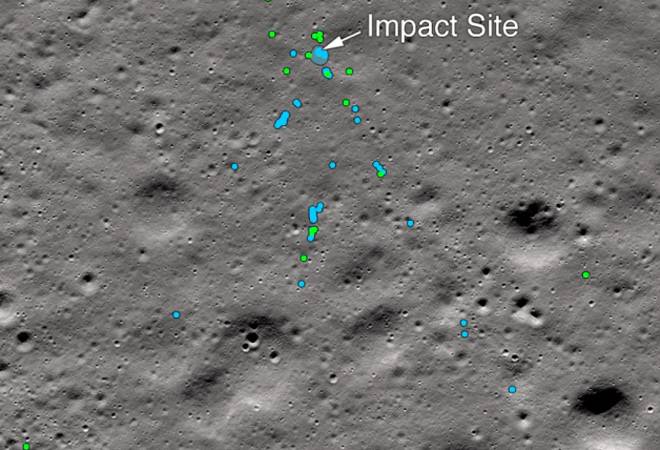 In September this year, the US space agency NASA has detected the wreck of India's ambitious Chandrayaan-2 Vikram Lander. NASA has released a picture taken from its Lunar Reconnaissance Orbiter (LRO) on Tuesday morning. In which the location affected by Vikram Lander is visible. NASA released a statement saying the Vikram Lander has been found on the lunar surface.
The picture shows the debris area of ​​Vikram Lander through blue and green dots. In the statement, NASA said that it had released a photo of the crash site on 26 September and called people to search for signs of Vikram Lander. After which a person named Shanmuga Subramanian approached the LRO project with positive identification of the wreck.
After which the LORC team confirmed the identity of the lander site by comparing before and after images. Shanmuga identified the wreck located approximately 750 meters northwest of the crash site. This was a clear picture of the first mosaic (1.3 m pixels, 84-degree incidence angle). The Impact Creator, Ray and the extensive debris area at Number Mosaic are well visible. The three largest pieces of debris are 2×2 pixels.
Chandrayaan-2 was broken by ISRO
In October, NASA released a statement stating that the Chandrayaan-2 lander has not been found in the latest photos from the orbiter. NASA said that the lander may have hidden in a shadow at the time our orbiter took the picture. A NASA project scientist had said that our orbiter had taken a photo of the Chandramayan-2's Vikram landing site on October 14, but there we did not find any picture in which Vikram Lander-2 could be seen. Explain that Vikram Lander had made a hard landing on the Moon's the South Pole instead of Soft, due to which he lost contact with ISRO.