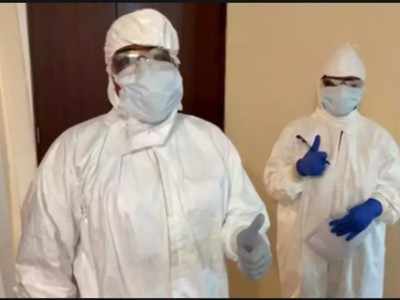 karnataka lockdown update: complete lockdown can be announced in karnataka anytime! Know what is the latest update

karnataka Lockdown Update: In view of the havoc of Corona, complete lockdown can be imposed in Karnataka.
Corona continues to wreak havoc in the country. Restrictions such as lockdown are in place in many states to avoid the havoc of Corona so karnataka Lockdown can be imposed.
Meanwhile, in view of the havoc of Corona, complete lockdown can be imposed in Karnataka. Karnataka Chief Secretary P Ravi gave information about this.
He said that in view of the fast growing cases of corona in the state, the government is considering imposing a complete lockdown.
Also Read : Mukesh Ambani : Reliance oil refinery sends 100 tons of oxygen for covid patients
Talking to Deccan Herald, Karnataka Chief Secretary P Ravi has indicated that the state government will implement restrictions like lockdown.
He said that a final decision will be taken in the cabinet meeting of Chief Minister BS Yeddyurappa on Monday. He spoke to Deccan Herald on curfew every day of the week
Explain that along with the night curfew, the weekend curfew is in force in the state till Monday morning.
During this time the movement of people has been banned and public transport has also been banned for movement within the city. However, shops of essential services will be open only between 6 am and 10 am.
On the other hand, Karnataka Health Minister K Sudhakar said that the implementation of the stringent restrictions will be discussed in the cabinet meeting on Monday.
He said that 'all our cabinet colleagues will express their opinion.
On the other hand, about 30 thousand new cases of corona virus have been registered in Karnataka in the last 24 hours.
This is the highest figure ever. In this, the highest record 17 thousand cases have been found in Bengaluru. 208 people have died in Karnataka during this period. The positivity rate in the state has been 15.52 percent
. Talking about the state capital, Bengaluru, here too, the highest number of new cases has been registered in a single day so far.
Now the number of active cases in the state has increased to 2.3 lakhs.