Virushka Photo: Anushka Sharma – Virat Kohli, AB de Villiers, took a romantic look between IPL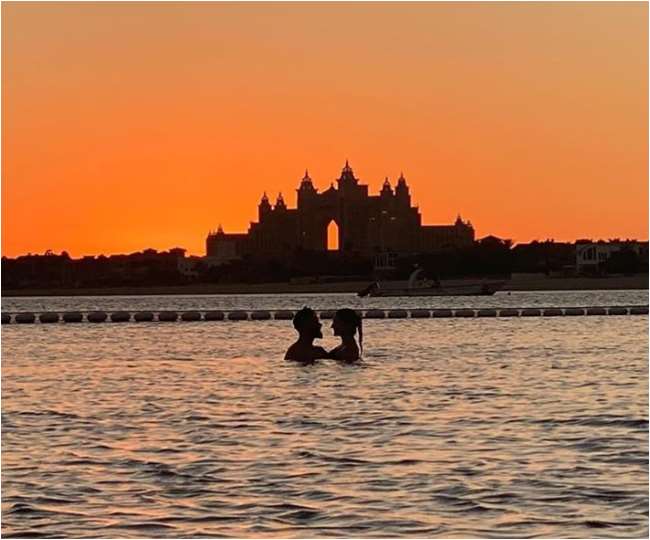 New Delhi Virushka Photo: The Indian Premier League (IPL) is held in the UAE during the Corona period. This time there are players on the field, but no spectators to cheers. But the family members of the players are making up its deficiency. Bollywood actress Anushka Sharma has arrived there to sport Virat Kohli's team Royal Challengers Bangalore (RCB). Meanwhile, along with Virat's tremendous game, romance is also being seen.
A few days ago, Anushka Sharma shared a picture. In this, she was seen with RCB players. But now another picture has come out. In it, she is seen at sea with husband Virat Kohli. The nuances between the two can be understood from the dimensions of the picture. The special thing is that the photographer is also being praised with the photo. This photographer is none other than Virat's teammate and South African player AB de Villiers. Virat shared this photo on his official Instagram handle. He has also given photo credit to Abby as well.
Let me tell you, Virat Kohli's team performance during the IPL has been quite good so far. RCB have defeated Rajasthan Royals in the last match. At the same time, with this win, he is third in the table. The bat of Virat Kohli himself is also speaking this season. His team is believed to be the main contender to reach the playoffs. However, Virat has not done any of his trophies in the history of IPL so far.
Significantly, a few days ago, Anushka had been in the discussion about IPL. During the commentary, former Indian cricket Sunil Gavaskar made a comment. Anushka Sharma reacted sharply to this. However, Sunil Gavaskar later said that Anushka has misunderstood his point. It is not his fault.