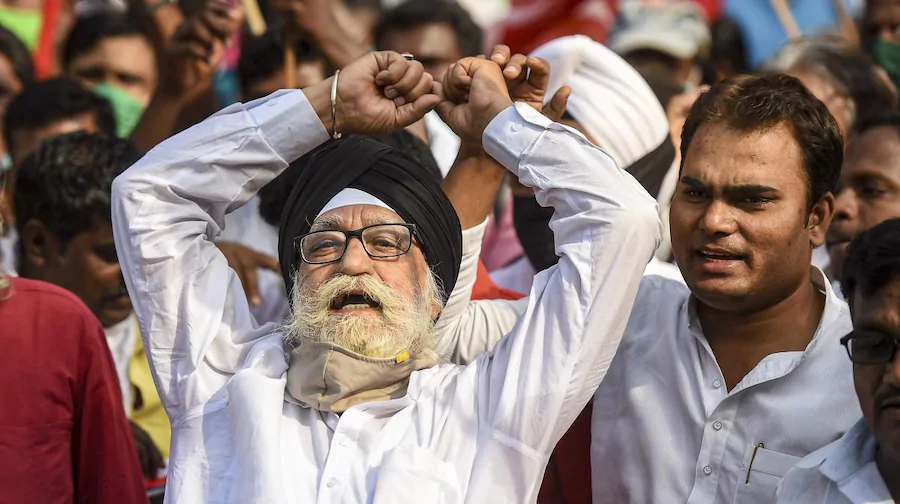 National Farmers Day: 'Farmers Day' in the midst of the farmers' movement, will not eat a time meal

Farmers Day: India this day is celebrated as 'Farmer's Day'
Farmers Day, In the pages of history, the day of December 23 is related to all the ups and downs
On the same day, India's fifth Prime Minister Chaudhary Charan Singh was born
You probably wonder why these good – good farmers  why are they protesting. Why are they adamant on withdrawing such a law, which the government is describing as historic. 
Some faces of power are seeing Naxalites and sometimes seditious Aks in these farmers' positions. 
To understand the antics of this protest, what is its real picture, we should look at the eyes which are standing on the border of the capital of power with questions, apart from big debates and statements. 
In the pages of history, the day of December 23 is related to all the ups and downs, but in India this day is celebrated as 'Farmers Day'.
In fact, the fifth Prime Minister of India, Chaudhary Charan Singh, was born on this day, who initiated several policies to improve the lives and conditions of farmers.
The Government of India decided to celebrate December 23 every year as Farmers Day in honor of Chaudhary Charan Singh in the year 2001.
the birth anniversary of Chaudhary Charan Singh. On this occasion, farmers are going to give more edge to their movement today.
Today farmers will not eat lunch.
Also, farmers from all over the country can come to Delhi border today.
The gathering of farmers on the Singhu border and Ghazipur border is also present on the 28th day.
Farmers have sent a letter to the PM with blood to pressurize the government, so the Agriculture Minister met representatives of farmers organizations around UP and Delhi yesterday to convince the government. See it is 9 o'clock
Today is the 28th day of the farmers' movement, but so far no talk has been made. If the government is firm on its intention, the farmers are determined to demand the withdrawal of all three new laws.
The government has once again sent a proposal for talks, on which farmers will consider today. At the same time, the Delhi Cooch campaign of the farmers of the country is going on.
Look into these eyes standing on the Delhi frame they do not belong here. They do not belong here. 
Then what are these eyes, whose eyes are there, looking at the black road lying in front of the tarpets of the tarpaulins. Because they are lying at the mouth of this metropolis …
BJP should stop humiliating farmers: Akhilesh
Farmers Day is celebrated on the birth anniversary of former Prime Minister Chaudhary Charan Singh.
Today is Farmers Day. Samajwadi Party has announced a program in support of farmers at all district headquarters of Uttar Pradesh today.
Prior to this event, SP President Akhilesh Yadav tweeted and said, "I bowed down to Chaudhary Charan Singh on his birth anniversary!" Today, during the BJP rule,
Such a 'Farmer's Day' has come in the history of the country, when the farmers of the country are forced to struggle on the streets in place of celebration.
The BJP should stop insulting the farmers because 'the farmer of the country is of India'.
Also Read : Farmers' organizations