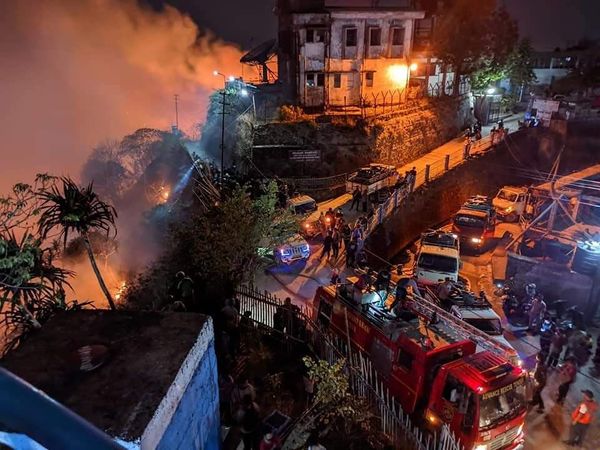 Mizoram Fire: Central Government helping to extinguish fire in Mizoram forest, CM thanks PM Modi

Mizoram Fire update: CM Zoramthanga said, "Thank you very much to Prime Minister Narendra Modi.
I thank the central government for the assurance and prompt action, helping to extinguish fire in Mizoram forest."
Mizoram Chief Minister Zoramthanga on Monday thanked the central government for helping the Air Force deploy helicopters to extinguish the forest fires in different parts of the state.
Prime Minister Narendra Modi (PM Narendra Modi) spoke to the Chief Minister and offered the Center's help in extinguishing the fire in the forests.
The Chief Minister had appealed for the help of the Air Force to control the fire in Lunglei and the surrounding area.
Also Read: karnataka lockdown update
According to an official, the Mi-17 helicopter of the Air Force has been deployed in the operation.
CM Joramthanga tweeted, "Thank you very much to Prime Minister Narendra Modi. I thank the Central Government for the assurance and prompt action.
In these five districts, Lunglei and Longalai are the worst affected by the davanal (forest fire).
Fire in the state's forests since Saturday
Be aware that the forests of Mizoram have been on fire since Saturday. In 48 hours, the fire spread to the jungles of the four districts of the state. At the same time, some urban areas were also under fire by Sunday.
This fire started in Lunglei on 24 April at 7 am. Lunglei is the capital of South Mizoram district. The fire spread mainly in the forests around the city,
where there is not much population. In some areas such as Jötlung, Serken, Chanmari, the fire had reached some buildings. Many people took their goods from the houses to the streets.
Center gave assurance of all possible help
The forest officials, firefighters and local volunteers also tried to extinguish the fire continuously,
but the fire could not be extinguished even after the ongoing campaign for more than 32 hours.
Dry vegetation and strong winds made the extinguishing operations difficult due to the drought conditions.
However, the matter of relief in the meantime is that there is no information about the death of anyone in this fire in the forest.
The Chief Minister of Mizoram on Sunday sought help from the Central Government to extinguish the fire. PM Modi assured of all possible help and the Indian Air Force deployed two helicopters.