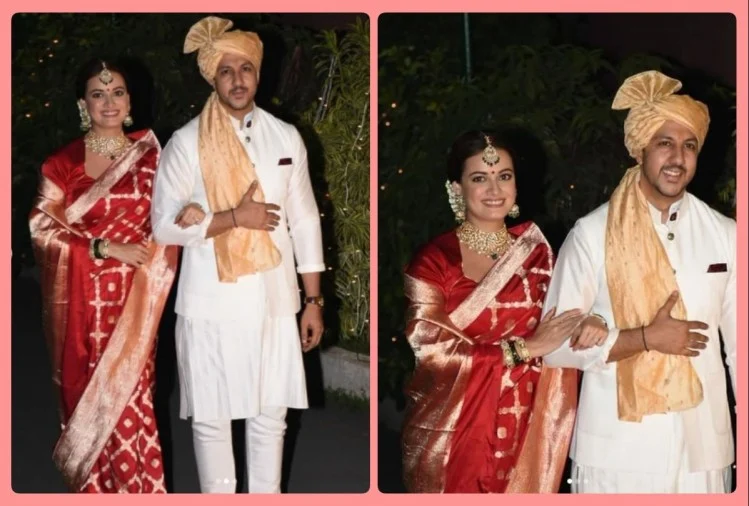 Dia Mirza: Dia Mirza and Vaibhav Rekhi tied in marriage,

Bollywood actress Dia Mirza has tied up with businessman Vaibhav Rekhi on February 15.
Her first pictures have come out in a very beautiful red color couple. Dia Mirza's bridal look looks fantastic in it.
The bride is wearing a red saree, looking very cute.
After the preparations and rituals of the marriage that have been going on for a long time, finally, both of them got married today.
Beautiful pictures of this married couple are becoming very viral on social media,
in which Dia Mirza looks very beautiful.
Also, Read Deepika Padukone: User was abusing personal message, Deepika put a picture on the status
Diya is wearing a beautiful beautiful saree of dark red color.
At the same time, Vaibhav is wearing a white-colored kurta pajama.
He is also wearing a fabulous turban.
Family members and close friends attended the wedding ceremony of Diya Mirza and Vaibhav Rekhi.
Only 50 people were allowed to attend due to Corona.
Vaibhav and Diya are seen together in the photos.
In the next picture, Dia Mirza stands with folded hands and is greeting.
There are also reports of the involvement of film directors Rajkumar Hirani, Malaika Arora, and Zayed Khan in Diya's wedding.
Talking about Vaibhav Rekhi, he is a Mumbai based businessman.
Vaibhav and Diya had been dating each other for some time.
Let me tell you that Diya Mirza has married Vaibhav Rekhi. Earlier, he was married to Sahil Sangha.
Then both of them declared divorce after living together for 11 years.
Dia and Sahil separated in 2019.
Vaibhav was the husband of well-known yoga instructor Sunaina Rekhi. Vaibhav also has a daughter.
It is said that Writer Kanika Dhillon was the reason for the break up of Dia Mirza and Sahil Sangha.
However, Diya had made it clear that there is no third reason for their marriage to break up.
Dia Mirza wrote on social media while separating from Sahil Sangha that after spending 11 years together,
we have decided to separate by mutual consent.
We will continue to be good friends and respect each other.
Our paths are different but we will be thankful for the engagement we have.