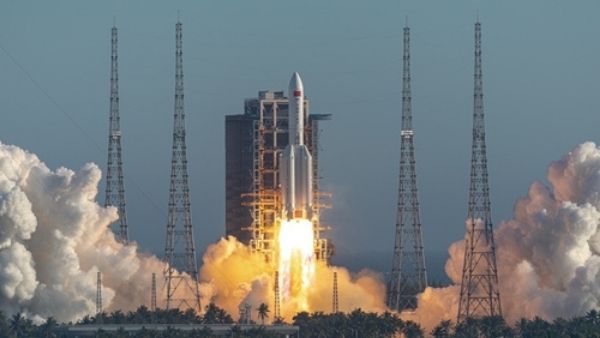 China rocket: 21 thousand kg rocket of China out of control, fear of falling anywhere from space to earth, may wreak havoc

21-ton China rocket long March 5B rocket has gone out of control in space
China rocket moving rapidly towards the earth uncontrollably. The weight of this rocket is 21 thousand kg and it is feared that it may fall anywhere on earth.
At the same time, scientists have feared that in any part of the earth, this rocket will fall, there it can cause massive destruction. The speed of this rocket is 4 miles per second.
China is behaving madly in the craze of becoming the king of space and now it is becoming a big threat to the security of the world.
Also read, Guidelines: RBI has decided the age limit and tenure of the office bearers of banks,
China has already given the gift of corona virus to the world, which has not only killed millions of people but has also ruined the world economy and now China's rocket has become a new trouble for the world.
Uncontrolled China's rocket
The name of this Chinese rocket is Long March 5B rocket and its weight is 21 ton i.e. 21 thousand kg. It was launched only last week i.e. on 29 April but after going into space it has become out of control.
Due to which it is now very difficult to control this rocket and scientists have feared that this rocket may fall anywhere.
There is a lot of apprehension that if this rocket falls in the populated part, what will happen then?
Scientists have feared that if this 21 thousand kg rocket falls over a city, it can cause massive destruction and kill hundreds of people. The most problematic thing is that in which part of the world this rocket will fall, it is not able to get the exact information.
Great danger on america
Experts are speculating that the debris of this rocket may fall more than expected in the US. According to scientists, the debris of this rocket may have fallen in the city of New York or Madrid, but scientists are not able to fully agree on its point.
Scientists fear that rocket debris may fall on China's Beijing city as well. According to a Guardian report, Jonathan McDowell, a noted astronomer and an expert on aerophysics at Howard University,
has said that 'this is quite dangerous and not good for the world'. He said that 'The route of this satellite is currently looking towards New York, Madrid or Beijing, which is taking it from Beijing to the north and south to New Zealand and Chile.
In this location, this rocket can hit anywhere on earth. . He said that it is possible that this rocket falls in the sea, but there is absolutely no denial of this rocket falling in a populated area.
The last time a rocket fell on buildings
Jonathan McDowell has said that the only relief is that after coming close to Earth from space, a large part of this rocket will be burnt, but still there will be enough debris that will be enough to bring destruction.
According to the satellite tracker, the length of this rocket is still about 100 feet and it is moving towards the earth at a speed of 4 miles per second. According to Jonathan McDowell,
the Chinese rocket has caused unrest before this. Before this, a rocket named Long March 5B fell uncontrollably from space,
whose shell was visible on the sky in Ivory Coast for a long time and the rocket debris on the earth fell on several houses which completely destroyed. . However, the last time people were already removed, so no man was hurt.
Part of China's special mission
Let us tell you that China launched the first core capsule module of the space station on 29 April to compete with the US. China is building its own space station in space which will be ready by the end of 2022.
For this, China has prepared 11 planned missions. At this time, space is the only special station built by NASA. At the same time,
China has named its special station named Tongong and it is being designed as T-shaped. China is setting this space station between 340 km to 350 km from the lower orbit of the Earth and a rocket engaged in the same mission is going to fall uncontrollably to the earth.