Censor Scissors on Tanhaji The Unsung Warrior, edited many scenes and dialogues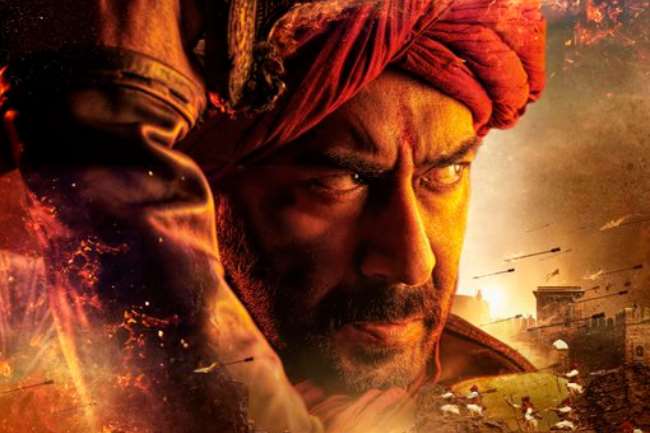 New Delhi Ajay Devgn's Magnum Opus Tanaji The Unsung Warrior is releasing on January 10. Based on the backdrop of the war between the Maratha Empire and the Mughals, the film will feature Ajay Devgn as Tanaji Malusare, who was a Subedar in the Maratha army. There are often controversies about historical films. In such a situation, the Censor Board (CBFC) has started to be very cautious before the release, which is predicted by the scissors on Tanaji.
When the board saw Tanaji, he realized that some scenes and dialogues could be objected to. So they have been asked to remove it. According to the news published in Bollywood Hungama, in one scene Saif Ali Khan's character Udayabhan says – and I am only Rajput. The word Rajput has been removed from it. Words and lines like Goli, Maid and Neecha Khoon Tha Tu have been removed. There was a scene in the film, in which Udaybhan was shown killing his mother. This scene has also been edited. The dubbing of a dialogue was also repeated from SAIF, so that the meaning is not lost. 
Apart from this, CBFC has also given instructions to install disclaimers in many places, which starts with the start of the film. A disclaimer states that the word Maratha in the film refers not to the Maratha community, but to the soldiers of Chhatrapati Shivaji Maharaj as Marathas. It has also been clarified that Tanaji – The Unsung Warrior is a fictional performance inspired by the life of Tanaji Malusare. This disclaimer will last for 30 seconds.
Tanaji – The Unsung Warrior is directed by Om Raut. Ajay Devgan is also accompanied by Kajol, who plays Savitribai. Sharad Kelkar will be seen in the role of Shivaji Maharaj. At the same time, Saif's character is negative.