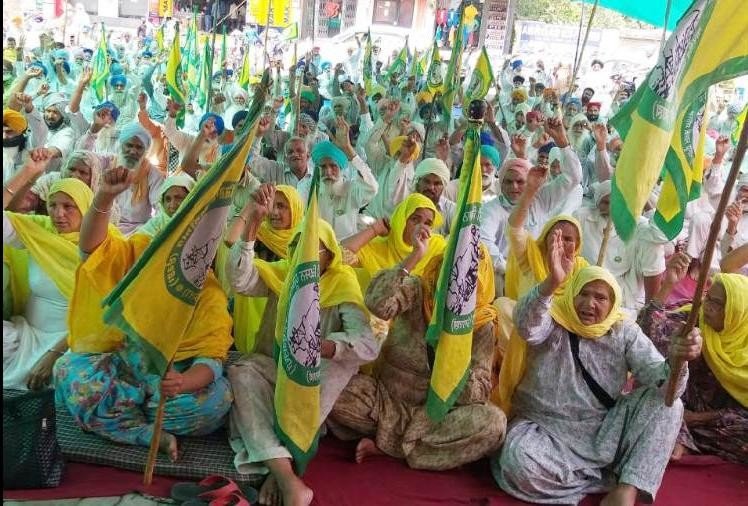 Bharat Bandh: Farmers engaged in strategy to make demonstration successful, private buses will not run in Bathinda

Bharat Bandh : The protest of the Bharatiya Kisan Union Ekta Ugrahan in protest
Against the agricultural laws in Sunam of Sangrur continued on Wednesday (Bharat Bandh). At Agrasen Chowk, the farmers staged a protest against the central government.
Apart from this, a strategy was chalked out on 26 March to make the Bharat Bandh movement a success.
The district general secretary of the union, Darabara Singh, said that on March 26,
at six in the morning and the agitation will go on till six in the evening.
There will be picketing on the railway track in Dhuri.
He said that the agitation will continue till the repeal of the agricultural laws and for this cooperation of all is necessary.
Farmer representatives said that on March 26,
all of them should close their business establishments and take part in the agitation at ITI Chowk in Sunam.
Also Read: Mumbai lockdown: Mumbai and Pune, now the speed of corona in Vidarbha is uncontrolled, Uddhav government's increased tension
Conference on March 30 at Village Chatha Nanaheda The meeting of
Bharatiya Kisan Union Ekta Siddhupur was held at Gurdwara Sri Nankiana Sahib
on Wednesday under the chairmanship of District General Secretary Ran Singh Chatta.
During the meeting on March 30, in connection with the preparations of 'Mitti de Putta da Mahasammelan'
by the farmers, youth, laborers, jobbers, shopkeepers, shopkeepers,
and panchayats for the art of the United Front in the stadium of village Chatha Nanahera.
Discussions were held. On this occasion, Ran Singh Chatta said that the duty of all the workers has been imposed for the conference.
Private buses will not run in Bathinda on 26th
On March 26, farmers protesting against agricultural laws have announced a Bharat Bandh.
On Wednesday, President of the Private Bus Association, Narpinder Singh Jalal, while supporting the farmers' shutdown announced that on 26th no private bus will run on the roads in the district.
District President of Private Bus Association Narpinder Singh Jalal while speaking to the media said that he fully supports the Bharat Bandh of farmers.
The district president said that on March 26, the private bus association will cease operating buses.
Apart from this, the members of the association staged a protest against the rights of the farmers and the central government.
On the other hand, the lawyers demonstrated against the agricultural laws.
On Wednesday, against the agricultural laws in Jalandhar,
outside the Desh Bhagat Memorial Hall, the lawyers demonstrated against the central government.
During this time the lawyers also raised slogans of 'Bhagat Singh Teri Soch Te Pahara Deaaeng Thok Key.
The lawyers shouted slogans like withdraw the agrarian reform law.
Advocate Rajinder Singh Mand said that this country is not the dream country of Bhagat Singh, to fulfill his dreams,
we will now have to fight the second battle of independence against the RSS after the British.
On this occasion, Surender Kumari, Senior Trustee of Desh Bhagat Yadgar Committee said that there has been a big role of lawyers in the independence of the country.