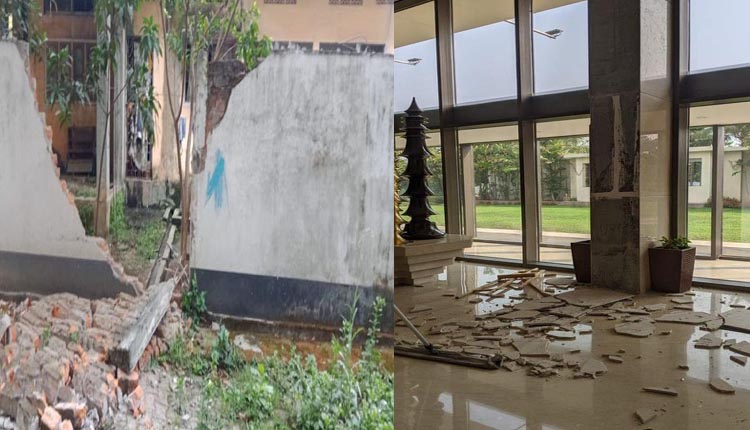 Assam Earthquake: Strong tremors of earthquake felt in Assam, magnitude 6.4 on Richter scale

Assam Earthquake: Severe tremors have been felt in many areas of Assam.
There is panic among the people after these tremors which came at around 8 am. Assam Earthquake came out of the houses to go to safe places.
These sharp tremors have been felt in parts of North Bengal besides the Northeast. According to the National Center for Seismology, a magnitude 6.4 magnitude earthquake was felt on the Richter scale near Tezpur on Wednesday morning.
Also Read : Corona in Delhi: 20,201 cases, 380 deaths reported in last 24 hours, increased infection rate due to low test
According to the agency, the epicenter of the earthquake was 43 kilometers west of Tezpur in Assam. The earthquake struck at a depth of 17 kilometers from the surface at 7:51 AM Indian time.
Health Minister Himanta Biswa Sarma tweeted on these tremors of Assam earthquake, said, felt the sharp shock,
although he has reported the magnitude of the earthquake 6.7. Along with this, he has also shared pictures of some of the losses in Guwahati.
The tremors were felt in Guwahati, Assam on Wednesday (April 28) morning. At the same time, earthquake tremors have also been reported in Tezpur and Sonitpur.
The earthquake measured 6.4 magnitudes on the Richter scale. During this period, people came out of their homes in panic and there was chaos.
According to information received from the National Center for Seismology, the tremors in several areas including Guwahati, the tremors were felt at 7:51 am.
During this time, 6.4 Magnitude intensity was recorded in Sonitpur. It is being told that earthquake struck in Guwahati and Tezpur too.
Panic spread among people as soon as the information was received about the earthquake. They came out of their respective homes.
At the same time, there was chaos for a long time.
CM Sonowal said this,
Assam Chief Minister Sarbananda Sonowal has confirmed the earthquake. He said that I pray for every citizen to be safe.
Also, I appeal to all people to be safe. Updates are being taken from all the districts of the state.
Collapsed walls in many places , heavy damage is being said that due to the strong tremors of the earthquake, in many areas the walls have collapsed. At the same time, the trees also collapsed in many places.
It is also being reported that there has been a lot of damage due to the earthquake. Apart from this, earthquake tremors have also been reported in some areas of North Bengal and Bihar.