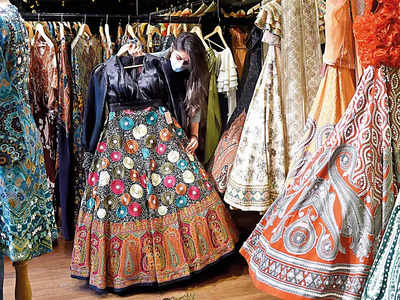 Designer wear back in demand, as celebration season kicks off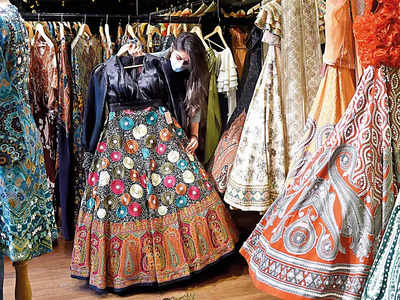 The pandemic saw a drastic fall in demand for designer wear as weddings and other celebrations were either postponed or scaled down massively. Till last year, the fashion industry was staring at losses and uncertainty. However, now with the festive and wedding season starting, things are looking up. After reopening their stores post the second wave, designers say they are again getting a good number of appointments and queries from clients.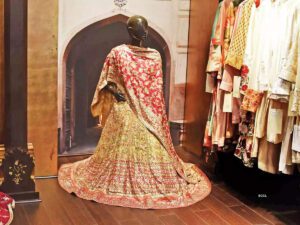 'Business is unexpectedly good'
"I have one retail store and I also operate from my studio in NCR, and the number of appointments we have been getting is unexpectedly good. When we reopened in mid-July, business was slow for a month, but things have turned around after mid-August. The upcoming festive and wedding season, and the fact that consumers are more confident about coming out and shopping are some of the reasons why business has picked up," says designer Anju Modi. Adds designer Manav Gangwani, "While earlier families would buy a Rs 10 lakh lehenga without giving it a second thought, now the budget has come down to Rs 1-2 lakh. But there are orders coming in and we are hoping things will turn around in the coming months."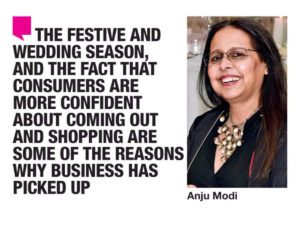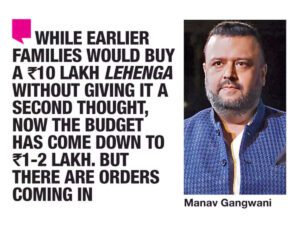 How the lehenga turned out to be a saviour for fashion business during pandemic
If there's one thing that hasn't faded or lost its charm during the pandemic, it is the craze for wearing a designer wedding lehenga. Designers say that weddings have been a saviour for businesses during the pandemic. "It is true that the number of functions around weddings are far lesser and scaled down than what they used to be in the pre-pandemic era, but as weddings are now intimate, some families have more budget to spend on a designer lehenga. So, while the bride's relatives might not be buying designer wear, the bride is still choosing her dream lehenga even if she has to spend a little extra on that," shares designer Rina Dhaka, who has still not reopened her retail outlets, but "is doing decent business from appointments at her factory-cum-studio". Designer Charu Parashar adds that she has been getting a lot of queries/orders for destination weddings. "Destination weddings seem to have picked up during the pandemic and along with bridal trousseau, there is also a demand for semi-formal/traditional designs," says Charu.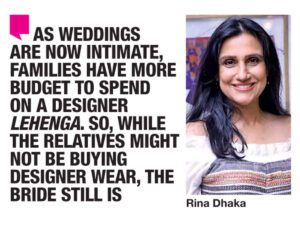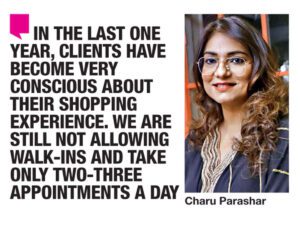 'Buyers are price conscious but there are more wedding orders than last year'
The one change that designers have noticed in consumers' buying behaviour during the pandemic is that "most have become more price conscious and want to invest in designs that can be worn on several occasions". Designer Gautam Gupta says that from his experience in the last few days he can say that "if things (number of COVID cases) continue to be what they are at present and we continue to remain open in the coming months, our business in the next three months could be 30-50% more than pre-COVID times. There were a lot of weddings that were postponed last year and are lined up in the coming months. So, the number of orders is going up. We are getting a lot of clients from cities like Jaipur and Raipur. Also, since there is still a fear of the third wave looming, people just want to complete their wedding shopping while everything is open. So, everyone wants us to deliver their orders in just a few days."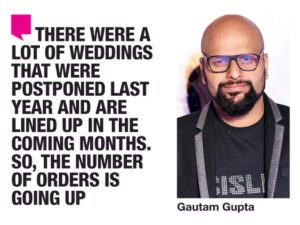 THERE WERE A LOT OF WEDDINGS THAT WERE POSTPONED LAST YEAR AND ARE LINED UP IN THE COMING MONTHS. SO, THE NUMBER OF ORDERS IS GOING UP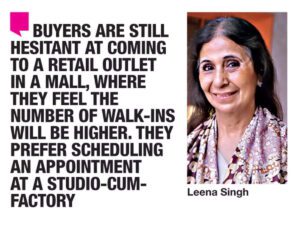 'Consumers check collections online, make appointments before visiting store to be safe'
Before confirming their appointment with designers, buyers are making sure that the store wouldn't be crowded. They are also checking out the collections online, and making notes before visiting the store to reduce the number of outfits they try on. "In the last one year, clients have become very conscious and aware about their shopping experience. To maintain their safety, we are still not allowing walk-ins and take just two-three appointments in a day," says Charu. Every garment that is put on display goes through a sanitisation process after every client visit, but in the case of couture where the "touch and feel factor" is important for clients, designers make sure that sanitisation is done carefully and in moderation. Rina says that sample designs in her store are used for trials, and once the order is confirmed, the design is made afresh to maintain safety. "Even the sample pieces that are on display go through the sanitisation process after almost every client visit. I am still operating from my studio, as it has a bigger space and social distancing is easily maintained, so at one point not more than one or two clients are there in the studio. People are stepping out to shop now, but safety is an important factor now in sales," shares Rina.
Designer Leena Singh adds that as compared to her store in a mall, buyers prefer booking an appointment at her studio-cum-factory. "Buyers are still hesitant at coming to a retail outlet in a mall, where they feel the number of walk-ins will be higher. They prefer scheduling an appointment at a studio-cum-factory, where we meet clients with appointment. Safety protocols are very important for buyers now, but the good sign is they are coming out for shopping. I am even getting calls from NRI clients, who are keen to visit India soon for their wedding shopping," says Leena.
Source: timesofindia.indiatimes