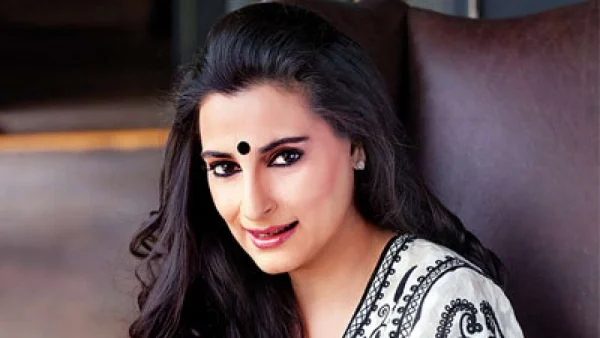 Mana Shetty wife of Sunil Shetty is multitasker, she is a successful businesswoman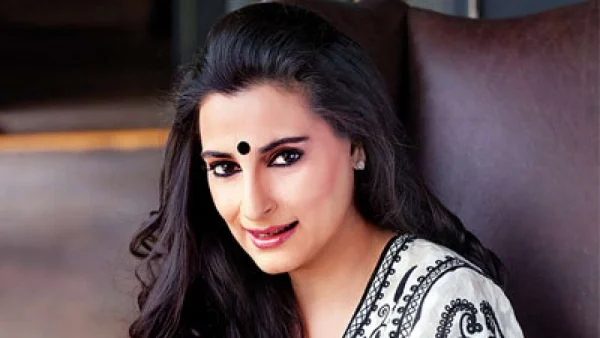 Mana Shetty is a successful businesswoman today.
Mana Shetty manages her husband's hotel business and also has a boutique by the name of R House. Together they run a real estate project called S2.
She runs a home decor and lifestyle store named 'R-House' in Worli, Mumbai. In addition to decorations, this store spread over 2 floors offers gifts, lighting, furniture, and other luxury accessories.
According to Mana, 80 percent of their store furniture is sourced from India and the rest from different parts of the world.
Like Sunil, his wife Mana is also a businesswoman. Maana is a multi-tasker and she is handling many responsibilities like the designer, homemaker, and social worker
Sunil Shetty is 56 years old. Born on 11 August 1961 in Malki, Karnataka, Sunil made his Bollywood debut in the 1992 film 'Balwan'. Although Sunil did not get much success in films, he is far ahead in the business field.
When Sunil fell in love with Mana in 1982, he was a student, the second biggest problem was that Mana belonged to a Muslim family. While Sunil Shetty belonged to South India.
Sunil and Maana first met in a bakery shop. After the first meeting, he had decided that if he married, he would marry this girl.
After getting Mana in front of him, Sunil proposed to him without delay. Mana too ex-pat this proposal, at that time both Mana and Sunil were not fit for marriage.
Why is the love story of Sunil and Mana Shetty special?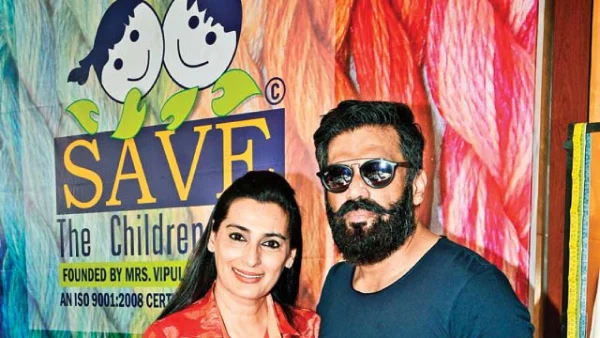 Sunil Shetty not only played the role of Majnu in a few films but he also had to go around becoming Majnu to find true love in his real life. Very few people know about Sunil Shetty's wife.
Her name is Mana! After a long walk behind her, she said yes, but this is not the end of Sunil Shetty's problem as their religion has come to a standstill.
Mana Shetty was a Muslim and Sunil was a Hindu, so they both expected some opposition.
Sunil Shetty had made his sister a friend to reach Mana. However, both of them were students when they were dating. Sunil and Mana had been dating for almost 9 years before marriage.
But the opposition exceeded their expectations, and both of them struggled to get their love to the point of marriage.
But in the end, it is said that if you really want something and you have the desire to get it, you will get it! Just like that, their love won due to their willpower and today both of them are enjoying a sweet world.
Even after so many years of marriage, the love between the two has not diminished.
Love at first sight
When Sunil Shetty first saw Mana, he fell in love with her but Mana did not immediately give him a hug. Sunil Shetty enlisted the help of her best friend to make her fall in love and once the two went on a long drive, Sunil Shetty expressed his feelings.
However, the family refused to marry the couple and kept them waiting for 9 years. The family thought that both of them would give up, but somehow they stuck to their decision and in the end, the family felt defeated because of their love.
According to Mana and Sunil Shetty, today's couples are so in love with each other that they forget their identity.
According to him, both the boy and the girl should maintain their identity and existence in love, otherwise, the interest in that relationship may go away after some time. Love does not mean that you have to sit and talk for hours.
The partner is the one who takes away the fatigue of your day. Even if you talk to him for 5 minutes, you feel good. Therefore, today's couples should not live with love as everything.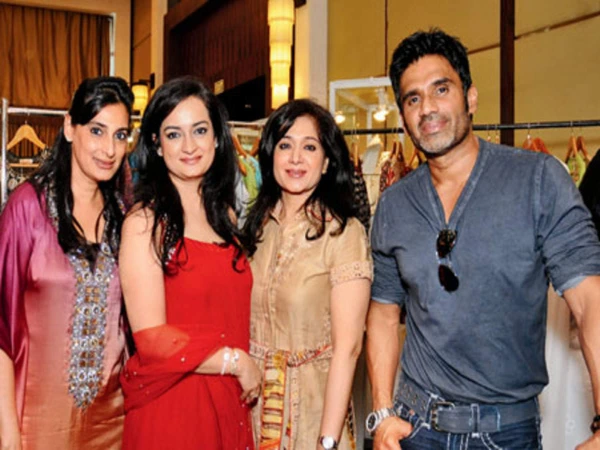 The eternal love of Sunil Shetty for mana Shetty
Sunil Shetty is one of those heroes who got married before earning stardom. So when he became a big star, he was often asked the question, what other heroine did you fall in love with?
When asked this question, Sunil used to answer that whenever such a thought comes to my mind, the only question I ask myself is why should I hurt the one who has promised to support me for the sake of this momentary attraction?
The church really has to ask itself this question, whether it is a boy or a girl, whenever such an attraction arises.
Sunil and Mana feel
They feel communication and respect the foundation of any relationship.
He says that if these two things happen, the relationship will never break up. So they set a rule to talk to each other as much as possible.
If you want to open your mind, you can do it, but you don't want to judge each other. Let him live his life the way he wants to live with respect for the relationship. This is the key to a happy world.
Also Read: As soon as Gauri Khan received the award