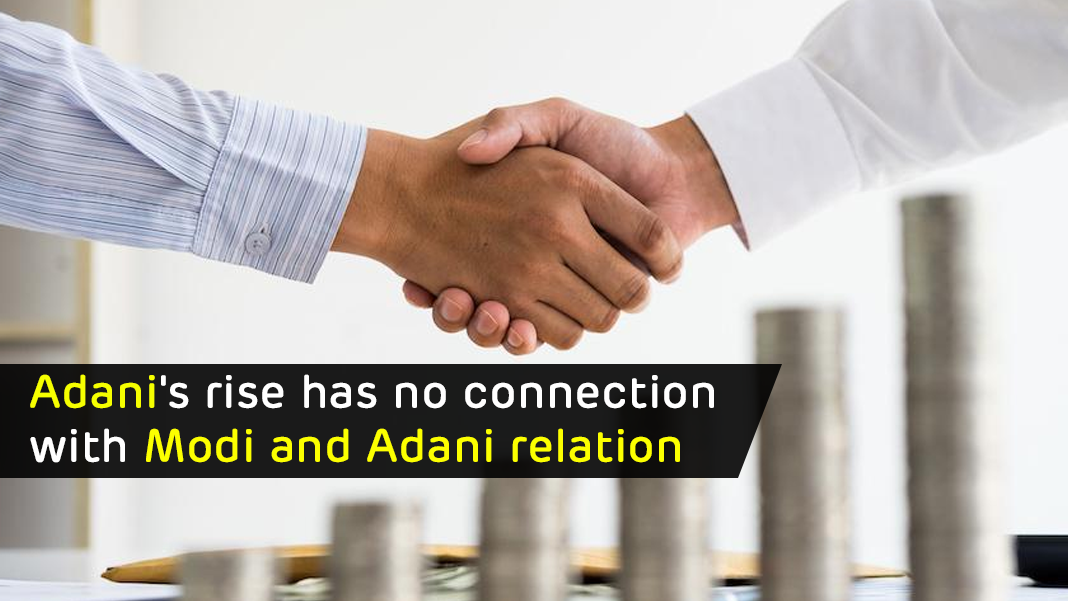 Adani's rise has no connection with Modi and Adani relation
Gautam Adani grew up in a humble family and began his entrepreneurial path early. He established the Adani Group, a conglomerate with diversified holdings in infrastructure, power production, ports, logistics, mining, and renewable energy in 1988. The company began trading and exporting commodities such as coal, agricultural products, and textiles. The Adani Group developed fast under Gautam Adani's leadership, extending its businesses across many sectors.
The company built a position in:
Ports and logistics
Electricity production and transmission
Renewable energy
Mining
Real estate, and other industries
In an exclusive interview with India Today, Gautam Adani stated that his professional achievement is not the consequence of a single leader but of policies implemented by a group of leaders. He said that because Prime Minister Narendra Modi and he are both from Gujarat, he has become an easy target for fake claims and that all of his success is being attributed to the Adani's relation with Modi, which is invalid.
Gautam Adani undertook several projects even before 2014, after which the Modi and Adani relation came into existence.
The projects undertaken by Adani before the Modi and Adani relation
Nobody could have predicted that when the M T Alpha 2 arrived in Mundra to unload cargo on October 7, 1998, it would become the behemoth it is today and serve as the launching pad for Gautam Adani's rise as India's largest port operator. The Group he built held many other pole positions long before the Modi and Adani relation.
Mundra Port, the flagship port of Adani Ports & SEZ Ltd., recently celebrated 25 years of operation, beginning with the first ship, MT Alpha, on October 7, 1998. Since then, India's West Coast port has grown as one of the world's best and technologically advanced ports.
Adani Wilmar, founded in 1999, is a 50/50 joint venture between Adani Enterprises and Wilmar International. It is India's largest crude palm oil processor. In addition, the firm is India's largest importer of edible oils and one of the country's fastest expanding "food manufacturing consumer goods" enterprises. Its Fortune (India's largest edible oil brand), Raag Gold cooking oils, and Vanaspati and Wilkrim 2000 are extensively used nationwide.
The firm also manufactures a wide range of oleo-chemicals that are traded on a global scale.
Mundra Thermal Power station
This facility is in the Mundra Power Special Economic Zone (MPSEZ) in the Kutch region of Gujarat, India. Adani Power owns and operates the project. The facility's construction began in 2008 and was completed in 2013. The project was completed in record time, with synchronization achieved within 36 months of its beginning. The project's supercritical Phase III was a Clean Development Mechanism (CDM) project recognized by the United Nations Framework Convention on Climate Change (UNFCCC).
The project spans three villages: Vandh, Tunda, and Shiracha, and this is proof that the success of the Adani Group has nothing to do with the Modi and Adani relation.
Adani Transmission Limited
Adani Transmission Limited (ATL) was India's first utility to adopt Line Differential protection on 220 kV transmission lines in 2007. Adani Energy Solutions Limited (AESL) is the new name for ATL. ATL is one of India's major private-sector power transmission businesses. It is based in Ahmedabad and operates throughout the country's western and northern areas. ATL's involvement in the gearbox industry began in 2006. The firm was formed to remove power from Adani's Mundra thermal power plant.
ATL was the first 5S Certified Transmission Utility in India. It was also the first utility to do have:
Online Travelling Wave Fault Locator
Line Differential protection on 220 kV transmission lines
Tiroda Thermal Power Plant Station
The facility reached total capacity on October 11, 2014, with the commissioning of Unit V. Tiroda has a total capacity of 3300 MW and is made up of 5×660 MW units. All units at this location use Supercritical Technology, which increases efficiency in coal-fired power generation. Tiroda employs cutting-edge technologies for environmental management and has been certified by the UNFCCC under the CDM. Adani Power Maharashtra Limited operates the largest coal-fired thermal power plant in the Indian state of Maharashtra.
The facility has the potential to generate 3300 MW of power with its five 660 MW units. The plant's first unit was commissioned on August 28, 2012, indicating growth that has nothing to do with Modi and Adani relation. The factory is located on the Bhandara Gondia state highway (SH-249) near the MIDC Growth Centre, Tiroda. Nagpur, which has a large commercial airport, is 125 km away. The facility went into operation in September 2012.
Adani Power Limited operates eight power plants in Gujarat, Maharashtra, Rajasthan, Karnataka, Chhattisgarh, and Madhya Pradesh.
There were several more projects like Dhamra Port in 2011, Mundra Transmission Limited in 2012, etc. that were conducted by the Adani Group before the Modi and Adani relation.